Tammy was in Houston for a training seminar, so I flew out there at the end of her seminar for a mini vacation. Had a quick lay over in Austin, TX.
Was a quick 45 minute flight from Austin to Houston. Never been to Houston before so didn't know what to expect.
Houston is huge. Took me about 40 minutes to drive to the hotel from the airport.
There are toll roads in Houston, which I wasn't familiar with.
So I had to pay to get on the toll road, I had to continue to pay to drive on it after several miles, and I had to pay to get off. I was stopping at the toll booths to pay cash, but eventually my exit was a EzTag only. So I skipped it hoping I can pay at the next exit. Which was also EzTag. So I exited anyways and a camera took a photo of my rental car. I didn't want to get billed by the rental company for a ticket so I called them and found out that the rental cars are already equipped with PlatePass so you can drive through and they'll just bill you for it.
The rental guy didn't mention anything about toll roads or the PlatePass, so you can imagine my confusion.
We stayed at the
Residence Inn by Marriott
. Room had a mini kitchen which was nice.
After dropping off my stuff we headed out for lunch.
I knew the first thing I wanted to eat in Houston was barbecue. Ever since I had amazing Texas barbecue in Austin, I knew I had to have more.
Heard a lot of good things about
Killen's Barbecue
so that was our first stop. I called a head of time because I was worried there would be a long wait or that they would run out of certain cuts of meat.
There was actually no line on a Sunday evening and they had everything available.
Heard a lot about their beef rib so I had to order it.
Sausage, port ribs, & brisket with a side of potato salad and mac & cheese. Everything was amazing, it did not disappoint one bit.
I had brought home some Texas barbecue back from Austin for Tammy to try before, but this is her first time getting it in house.
She got brisket, pork belly, and pork ribs with cream corn & coleslaw. She didn't like the coleslaw too much. She was hoping for the mayonnaise type coleslaw, but they served a vinegar based one instead. They also put what seem liked ramen noodles in their coleslaw which was interesting.
The beef rib is huge! Beer for scale.
It was delicious. Killen's Barbecue was awesome. It's been about 2 years since I tried Franklin's Barbecue in Austin and that is the best barbecue I have ever had. Killen's definitely filled my barbecue craving, but Franklin's is still better in my opinion, but Franklin's comes with that hefty wait time. Whereas Killen's, I just walked in around 5 pm on a Sunday with no line and got everything I wanted.
After we headed to
The Galleria
7th largest mall in the country.
There's a hotel in the mall. Never seen that before.
We got to the mall around 6:30 pm not realizing that everything closes at 7 pm. So we wondered around for a bit. There wasn't any retails shops that we didn't already have back in California, but if you don't have anything to do and want to escape the heat. Check out the mall.
Wanted to get dessert so we headed to
The Chocolate Bar
cause I had it booked marked.
I booked marked this place because it was recommended that we order the Uncle Daryl's chocolate cake. We did not order it. It's a monster of a cake, but here's a pic with Tammy's hand for scale.
We did see
The DoughCone
truck on our way out, but unfortunately it wasn't open. They serve soft serve ice cream in a doughnut cone.
In case you're curious on what it looks like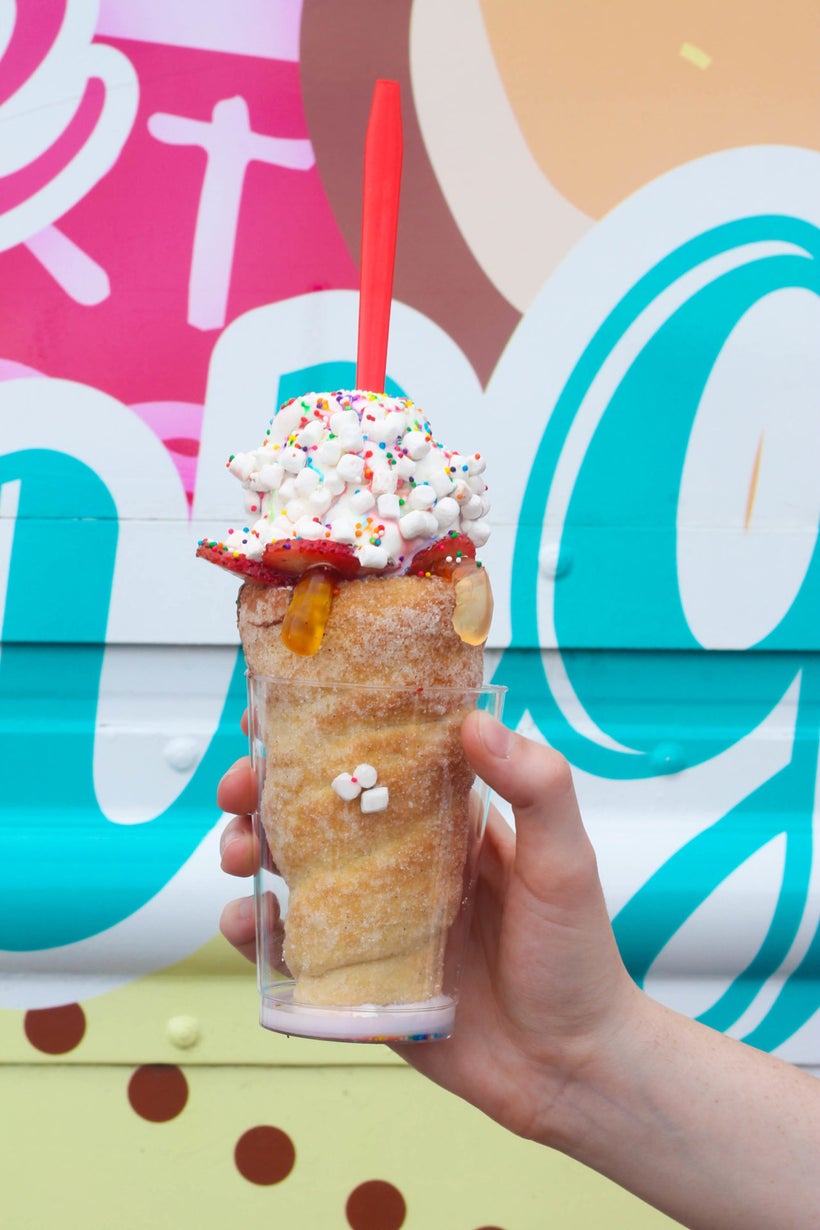 The toll roads are very clean and road conditions are excellent though, so the money's being put to good use.
I heard there's a large Asian community in Houston, but we didn't run into that many Asian's while we were there. This was probably the most Asian store we saw.
Headed back to the hotel to rest up a bit and then we set out looking for a place to hang out for the late night.
We were still full from the barbecue, but I had
The Hay Merchant
bookmarked and they were open until 2 am. So that's where we ended up.
It was really dead. Probably about 10 customers in the place on a Sunday night.
This place only serves beer and wine though.
Hot pork cracklins is what they call it, but I more familiar with it being called pork rinds or chicharonnes. Serve with spring onion dip which was amazing.
Sweet and Spicy pig ears served in a brown lunch back. These were great, but you have to eat them when they're freshly made. We took the rest back to the hotel and it wasn't as good after sitting for so long.
Tex Mex El Real is located across the street which got rated pretty high for Tex Mex food.
I've never seen a Cinnabon outside of the mall or airport and this one has a drive thru.
That ends day 1.