Ended up waking up around 10am. I think it's from all the Redbull I had the night before. Oh well it's time for lunch.
The Mansion Atrium can be seen from our room. That's where we were suppose to be if we hadn't slept in.
I believe those buildings to the right of the Atrium are The Mansion Villas. I have never seen them in person, but I heard that you have a live in butler that stays with you 24/7. That would be weird.
Some of the balconies of the other MGM suites, but the one at the very top I believe is the Skyloft 2 Bedroom + Plunge. It's a 4,800 sqft 2 bedroom suite, with outdoor patio and a plunge pool. That's the only floor plan I haven't seen yet. Hopefully one of these days.
It was suppose to be Thi's last day with us. She had originally planned only to stay for one night, but after seeing the Skyloft she changed her flight for another night. I think it's a wise choice.
After everyone woke up we headed out for some noodle soup. The cure for a heavy night of drinking.
While waiting for the taxi I spotted the Rolls sitting there looking all pretty.
The wait was about 40 minutes. Time to pull some more slots!
The worst free spin bonus ever!
We finally got seated. We were starving.
Thai iced tea.
Looks like Chow fun, but it's actually Pad Thai. Yeah they used the bigger rice noodles for this. It was the best dish I had there. That tells you something.
Udon
Cucumber salad.
Seafood Pho
Roasted duck with Plum sauce. This looked very good, but I didn't try it.
Won Ton noodle soup. Very bland.
Since Angela didn't get to visit the other casinos and she was leaving today. We took a quick look around the Bellagio.
They had a birdhouse set up in the garden area.
After loosing some money at Bellagio we took Angela to Planet Hollywood.
Man oh man did Planet Hollywood slots pay out. Plus the cocktail servers were a lot more attentive there also. I never seem to have a good experience at Bellagio.
Turned my $1.20 bet into a 10 minute bonus.
Eventually it was time for Angela to head home so I showed her to the taxi line.
And then I went back to gambling. Planet Hollywood's slots machines always seem to be very kind to me on most trips.
After spending some time at Planet Hollywood we headed back to the MGM.
What Hakkasan looks like without the crowd.
We eventually headed back to the room to just hang out. Turn down service had already stopped by and made our beds more welcoming.
Our friend Irene was also in town for a convention and came back to the room with us.
Irene ended up ordering a bottle to drink in the room.
I just chilled in my room for a bit and watch Hansel and Gretel Witch Hunter. It was a terrible movie.
For this night we ended up ordering from Craftsteak.
Caesar Salad, pickled anchovy
Diver Sea Scallop: Shaved Fennel, lemon
Ribeye: dry aged, angus, bone in
Halibut, summer vegetables, sorrel
I think this is the Veal breast
Rack of Lamb, lamb jus, roasted garlic
The dinner aftermath.
Excalibur off in the distance
After dinner we headed down to the casino and gambled a bit. Met up with a few more friends and we ended up getting bottle service at Spearmint Rhino. I didn't bring my camera.. use your imagination.
I forget what time we got back..
We ended up at the Avenue 24 Bar & Grill. I think the only people left drinking at this point was Peter, Thi and I.
Our friend Sim who moved out to Vegas. Glad she took the night off work to hang out with us.
As we drunkenly walked around the casino floor. I happen upon a quarter change machine with buckets on top. I was thinking "why would anyone need quarters" Then I looked around and found the Sigma Derby machine. It was horse betting and it took quarters! It was very nostalgic for me cause I haven't seen a gambling machine that used quarters let alone paid out in quarters too! Instantly changed out some money and started playing. It was so much fun. There are 5 horses and you have to bet on the pair of horses that will finish the race first. Each pair has different odds. We were there for hours screaming at a machine. It was so much fun. The cocktail server was constantly visiting us. It was probably around 5 or 6 am and the casino floor was dead. So we were her best customers. I didn't snap a picture of the machine at MGM, but found a photo of the machine online.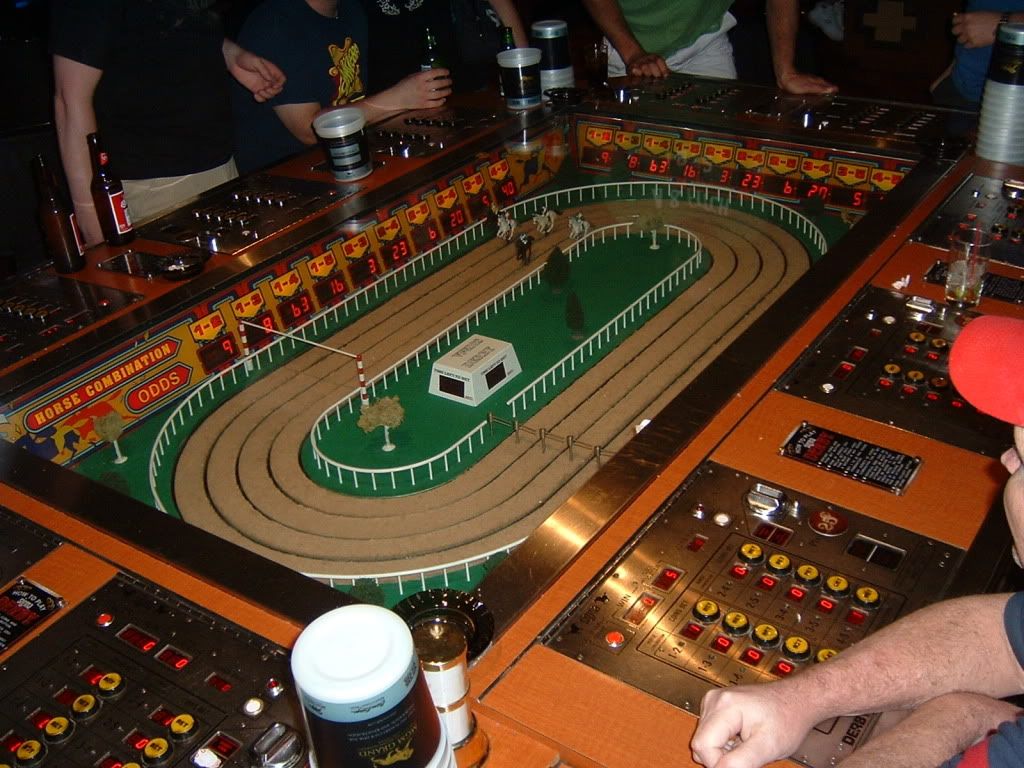 We eventually finished playing and wanted to see if we could get reservations for breakfast at The Mansion. Headed upstairs and that's when we realized the sun was out. The only people left alive at this point was Thi, Peter and I.
I headed back to the room to wake up anyone that wanted to go. Only Robyn and Carmen woke up.
We got escorted to The Mansion
We dined at the Atrium
More drinking. Mimosas
Thi finally gave up and had hot chocolate
I think this was a potato scramble or something.
I had waffles and a side of breakfast sausage patties.
Biscuits and gravy for Carmen.
Crabs benedict. I had a taste of this and it was amazing!
I asked everyone if they wanted another round of Mimosas. They all said yes.
Peter was so wasted that he doesn't remember ordering another mimosa. He was pretty angry about it too. So I drank it.
Here are the last survivors. It was 10:30am at this point. Our flight was at 5:45pm. Good thing we had a 4pm late check out. It's time for bed!
I ended up getting a phone call around 3pm. I was so tired I thought it was 3am. I was so pissed off. Who the hell calls me at 3am.. After frantically checking my phone several times and came to realize it was 3pm. Crap I wasn't even packed yet and we had to check out in an hour. I got and up ran around trying to wake everyone up thinking we were all asleep. Nope just me. Everyone had already packed their things and were down stairs gambling. Thanks for waking me up guys.
Headed to the airport and had our last meal before our flight. Wendy's
That's it. Day 2 practically rolled into day 3. I was dead tired and it was time to head home. I didn't want to leave the Skyloft, but all good things come to an end. So what's next? Got a bachelor party in Hawaii. Oh yeah can't wait. If this was Vegas in 2 nights I got a whole week to do some damage to the groom.